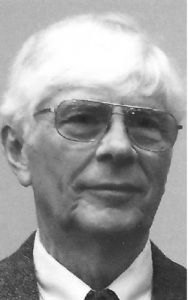 Dr. William J. Moody, 86, of Columbia, South Carolina, died Tuesday, April 3, 2018, following a long battle with cancer. Born December 27, 1931, in Duluth, Minnesota, he was the son of the late John Peter Moody and Rosalia Orana Martin Moody. Dr. Moody received his high school diploma from Proctor High School, in Proctor, Minnesota, where he played in his father's band and graduated as Valedictorian of his class. He received a Bachelor of Science degree from the University of Minnesota at Duluth, a Master of Music from Butler University, and a Doctor of Philosophy from the University of Minnesota. He was band and choral director at Rossville, Indiana, from 1953-1956; band director at Duluth Central High School from 1957-1961; Director of Bands at the University of Southern Mississippi from 1961-1966; Director of Bands from 1966-1973, and Vice-Chairman of the Department of Music from 1970-1973, at The University of Texas at Austin. Dr. Moody came to the University of South Carolina as head of the Music Department in 1973, a position he held until 1990, when he returned to full time teaching. He was a past president of the National Band Association and the Secretary-Treasurer of The American Bandmasters Association. From 1973-1990, Dr. Moody was the producer and conductor of the "Columbia Lyric Opera," a joint effort of the School of Music and the Columbia Music Festival Association, and in 1999, he and James K. Copenhaver co-founded the Palmetto Concert Band. The band continues to provide three free concerts to the Columbia area annually. In addition to his work at USC, Dr. Moody voluntarily served as the choir director of the Unitarian Universalist Congregation of Columbia for more than thirty years. Among his many awards were induction to the National Band Association Hall of Fame of Distinguished Band Conductors (2010), The American Bandmaster Association Honorary Life Member (2015), and The Order of the Palmetto (2015), considered the highest civilian honor in the state of South Carolina. Survivors include his wife of 37 years, Regina Blackburn Moody; his children, John Edwin Moody (March), Linda Moody Schmidt (Ralph), and Loren David Moody; his grandchildren, David and Taylor Moody, and Tyler and Cara Steffy; and a sister, Rita Moody Waller of Arizona. In addition to his parents, Dr. Moody was preceded in death by four siblings and his first wife, Carol Jane Moody. Visitation for Dr. Moody will be held Sunday, April 8 from 3-5pm at Shives Funeral Home, Trenholm Road Chapel.
A memorial service will be held Sunday, May 6 at 5:30pm in the Koger Center for the Arts. In lieu of flowers, memorials or donations may be made to the USC School of Music, Office of Gift Processing, 1027 Barnwell Street, Columbia, SC 29208; or to the American Cancer Society
, 200 Center Point Circle, Suite 100, Columbia, SC 29210. Memories and condolences may be shared at ShivesFuneralHome.com.