Where We Stand & Next Steps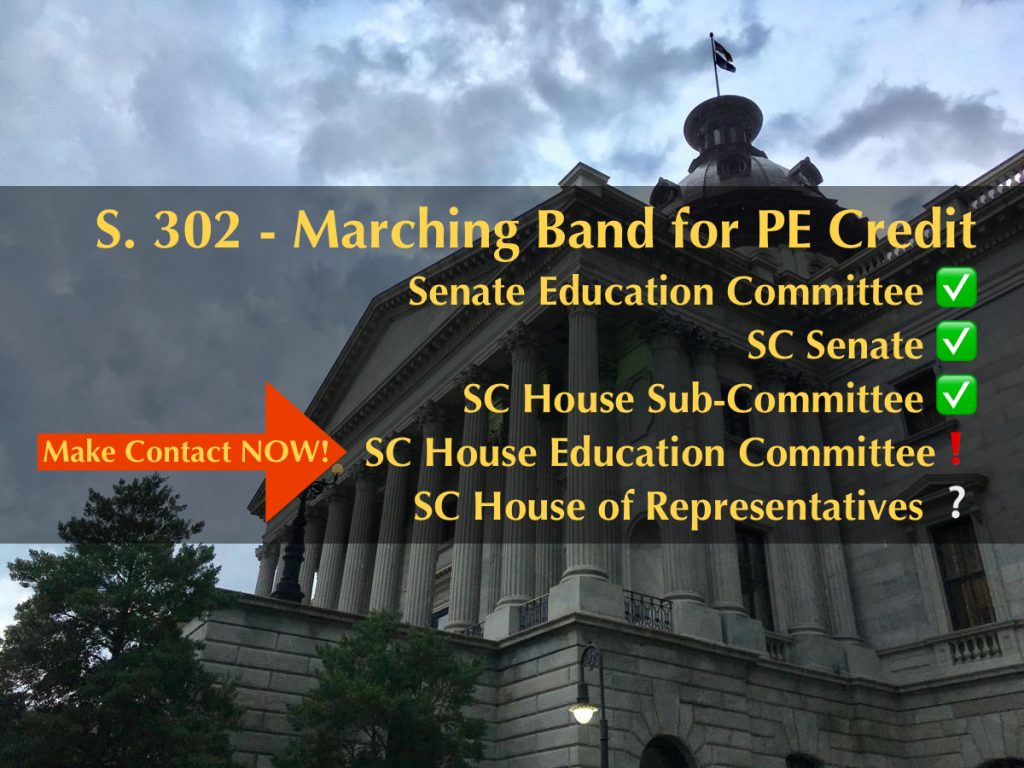 S. 302 passed the Senate 43-0 and is now headed to the House of Representatives! The bill was discussed during the House Education Sub-Committee on Tuesday, April 17th. The bill passed this hurdle (4-2) and will be brought up by the full committee next week.
PE Advocacy Groups are campaigning hard to shut down S.302. WE WERE VERY LUCKY TO GET THROUGH SUB-COMMITTEE YESTERDAY! If we do not make multiple contacts with EVERY HOUSE MEMBER listed below, the bill may die in the next committee meeting!
ALL SC BAND SUPPORTERS CAN CONTACT EVERYONE LISTED BELOW AND ASK THEM TO SUPPORT S. 302. CONSITUENTS MAKE A BIGGER IMPACT, BUT IF THEY RECEIVE 100'S OF E-MAILS AND PHONE CALLS… IT WILL MAKE A DIFFERENCE!
CLICK HERE BELOW TO SEND AN E-MAIL TO THE ENTIRE COMMITTEE. ANY & EVERYONE CAN SEND THIS E-MAIL,  INCLUDING STUDENTS!
We've also updated our Talking Points Document – Click Here to View the SCBDA Top Ten Talking Points.
WHO NEEDS TO BE CONTACTED RIGHT NOW:
| | | |
| --- | --- | --- |
| | Counties/Area | District |
| | Spartanburg | 36 |
| | York | 26 |
| | Colleton/Charleston | 116 |
| | Darlington/Florence | 59 |
| | Charleston & Dorchester | 114 |
| | Charleston | 110 |
| | Chester/Fairfield/Richland | 41 |
| | Greenville | 22 |
| | Orangeburg | 95 |
| | Colleton & Dorchester | 97 |
| | Spartanburg | 37 |
| | Lancaster | 45 |
| | Anderson/Greenville/Pickens | 10 |
| | Greenville | 18 |
| | Aiken | 86 |
| | Greenville | 28 |
| | Abbeville & Anderson | 7 |
| | Aiken | 84 |
THE PROCESS MOVING FORWARD
S. 302 has to be brought up and voted on in the House Education Committee. The earliest this can happen is Tuesday, April 17, 2018. IF/WHEN it is approved by the Education Committee, it will go to the floor of the House for 3 readings.
WHAT NOW – MOST IMPORTANT!
NOW, we need to AGAIN mobilize parents, alumni, & supporters to contact their House Representative for their district and ask them to vote favorably for S. 302.
IF THEY CONTACTED THEIR SENATOR BEFORE, MAKE SURE THEY KNOW THIS IS A NEW CONTACT AND AS IMPORTANT AS THEIR FIRST CONTACT! 
E-mails work, but phone calls are BEST! Click Here for a spreadsheet with the House of Representatives contact information.
Supporters: please realize this is DIFFERENT than your first contact, but it is ESSENTIAL if we are going to get this to pass!
EVERY HOUSE REPRESENTATIVE SHOULD BE CONTACTED BY MULTIPLE PEOPLE SUPPORTING THIS BILL.  
The South Carolina Band Directors Association needs your help in supporting a legislative initiative (
Senate Bill S.302
) that would allow high school students participating in marching band to earn the physical education credit requirement for their high school diploma as an alternative to the traditional PE class. Marching band curriculum must be based on the South Carolina Academic Standards for the Visual Arts and additionally incorporate the South Carolina Standards for Physical Education curriculum into the program in order to qualify for the physical education credit. A similar bill – S.1204 – passed the Senate in 2016, but the session adjourned before consideration in the House of Representatives.
Marching band programs are an extracurricular or co-curricular group ensemble experience giving high school students numerous performance opportunities such as marching band contests, football games, parades and exhibitions. There are currently over 150 marching band programs in South Carolina's public high schools with more than 11,000 students participating in the programs, many for all four years of high school.
Students participating in marching band typically invest 6 to 8 hours each week from late July through early November participating in a rigorous, physically active marching band programs which not only meet, but exceed the physical movement and healthy life skills which are expected from the standards of Physical Education (PE) in South Carolina. Additional points to consider:
Many high school band students currently take PE via the South Carolina Virtual School using the cardio regiment from marching band as their activity for this class. Virtual school PE students are required to have a fitness sponsor to monitor their physical activity for the duration of the course, and many band students have selected their band director to be their fitness sponsor. (Sponsors can be a teacher, parent, or any adult the student assigns as their sponsor.)
Marching band curriculum parallels the following standards from the virtual school standards:

Group Learning Community for Fitness, Cardio Vascular Exercises, Flexibility Exercise
Jumping Jacks, Movement Forms – team sports, etiquette, safety, activity logs, Life Time Fitness
Muscle Strength Exercises, Muscle Endurance Exercises, BMI charting

Several high schools in the state are now requiring students to obtain sports physicals before participation in marching band due to the physicality of marching and curriculum. Examples include: Northwestern High School in Rock Hill, Landrum High School and Hartsville High School. Lexington School District One is currently considering a district-wide physical for marching band policy.
Students earning PE credit from marching band would have more opportunity to enroll in IB and AP classes, as their class schedule would be allowed additional flexibility.
Students earning PE credit from marching band would have more opportunity to enroll in IB and AP classes, as their class schedule would be allowed additional flexibility.
Marching band programs typically begin band rehearsal sessions at the end of summer break before school begins outside on the drill field and continue with two to three rehearsals each week on the drill field as the band's competition show for the season is perfected. In a regular marching band practice, students work through specific training/conditioning of certain muscles groups through activities such as running for timed distance, working the core muscle groups, the feet and ankles, and the upper body to build arm strength.
While applying this same visual/physical technique, the group would warm up musically, incorporating fundamental musical technique with their show music and then move into working specific sections of the show while still placing duel emphasis on the physical and musical demands of the ensemble. The group then runs multiple repetitions with minimal instruction between reps to maximize retention and improvement. At the end of rehearsal each day, runs of the entire show help build endurance for the performers to push their bodies to become more mentally and physically stronger much in the same way a marathon runner trains their bodies over time.
The following PE standards can be measured in the marching band curriculum:
Standard 1 – The physically literate individual demonstrates competency in a variety of motor skills and movement patterns. (HS-1.1 and HA-1.2) Example: strength training, dance, and outdoor pursuits.
Standard 2 – The physically literate individual demonstrates knowledge of concepts, principals of strategies and tactics related to movement and performance. (HS-2.1, 2.2) Example: Apply terminology associated with exercise, use of movement concepts and principles (motion, rotation) to analyze an improve performance of self and/or others.
Standard 3 – The physically literate individual achieves and maintains health enhancing level of physical activity and fitness. (HS-3.1, 3.2, 3.4) Example: Self-monitoring of his/her own participation in physical activity using measuring devices such as Fitbit, or other tracking devices, or activity logs. Participating in physical activity outside of PE class.
Standard 4 – The physically literate individual exhibits responsible personal and social behavior that respects self and other in physical activity (HS-4.1, 4.2, 4.3, 4.4) Example: injury prevention, hydration, sun protection, implementation of rules, use of equipment, proper alignment, dance, etiquette and respect for others through team work, warm up activities.
Standard 5 - The physically literate individual demonstrates awareness that physical activity provides the opportunity for health, enjoyment, challenge, self-expression and /or social interaction. Example: the holistic marching activity demonstrate all components of this standard.
Participation in band programs around the state and being able to have band/fine arts "completers" has become nearly impossible for many students. The implementation of the 4x4 or A/B block schedule along with increased emphasis on AP classes, dual credit options, career clusters, etc. is cause for many students to opt out of continuing band participation in high school. The passage of this bill would allow band students just a little bit more scheduling flexibility. One more "slot" that they can use to be a "completer in band vs being forced to drop their band class so they can take an AP class or get the 3rd or 4th level Foreign Language or Math class needed to graduate.
Video Update for S.302
How Can YOU Help?
Click Here to send a message go the House Education & Public Works Committee.
Personally call and e-mail your House Representative. Be sure to contact your representative, as there may be several for your area.
Directors: Have your band parents call and e-mail!
Directors: Have your students use the scstatehouse.gov link to e-mail their House Representative. Encourage them to write in their own words about their experiences with band, how this bill and the scheduling flexibility would help and also the positives of physical activity and healthy lifestyle initiatives they are a part of while in band. If their outreach can be customized with real-life examples, that would be great!
Have your alumni call and e-mail!
Post information on Band Webpages and Social Media outlets with links for your supporters and how to contact them.
Resources from the SCBDA
Resources from the Opposition
The below content contains information published by the South Carolina Alliance for Health, Physical Education, Recreation and Dance
Sample Script For Call To Representative
When calling the House Representative's office, you will likely speak with a staff member. Note your name, that you are a band director/parent from ____ high school and you are a constituent of Representative ____.
Ask for Representative _____'s support of S.302, the bill that would allow marching band as an alternative to the physical education requirement for a high school diploma.
Be certain to leave your contact information in case House Representative _____ would like to discuss the issue further with you.
Main Talking Points