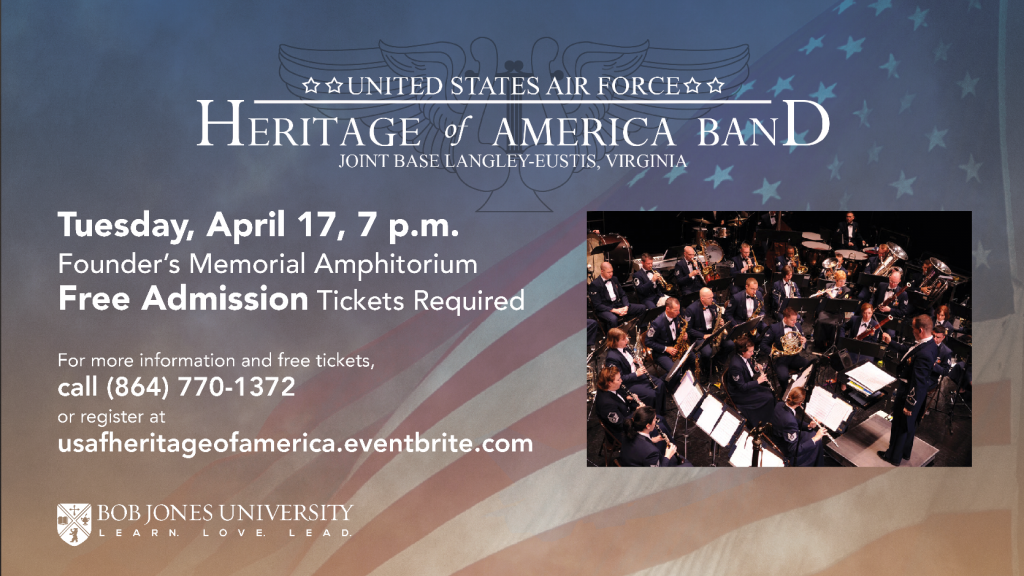 Bob Jones University will host the Unites States Air Force (USAF) Heritage of America Concert Band Tuesday, April 17, at 7 p.m. in Founder's Memorial Amphitorium.
Activated in 1941, the USAF Heritage of America Band has inspired public patriotism and enhanced esprit de corps among all U.S. military service branches for over six decades. This group remains at the forefront of communicating Air Force core values and preserving America's military and musical heritage into the 21st century.
The Concert Band is comprised of over 40 professional Airman-musicians stationed at Joint Base Langley-Eustis in Hampton, Virginia. These world-class musicians captivate audiences on regular tours throughout the East Coast and present over 350 events annually in support of Airman morale, honoring our nation's veterans and building relationships of trust between the American people and their Air Force.
The concert is free and open to the public. Free tickets can be secured at usafheritageofamerica.eventbrite.com.