The 2021 UofSC Band Clinic will be held February 11-13, 2021, via Zoom and YouTube live stream. Events will include performances by UofSC and guest ensembles, information sessions and masterclasses with UofSC music faculty and students, and a special grand finale virtual performance of John Mackey's Xerxes featuring all clinic participants.
UofSC Band Clinic Flyer 2021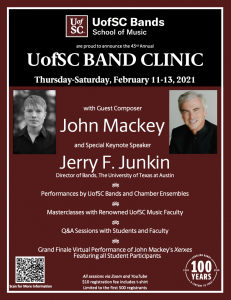 High School juniors and seniors may submit a video for an additional opportunity to be a featured participant in an online masterclass. Sessions will be held between 5-9 pm on Thursday and Friday, and 9 am-3 pm on Saturday. Sessions will vary between the full group and instrument-specific sessions, and students need only attend full ensemble sessions and those applicable to their specific instrument.
For a $10 registration fee, participants will receive a clinic t-shirt (to be worn for their virtual performance video) and access to all performances and masterclasses. Directors may attend all sessions. We will not use the typical nomination/selection process for the 2021 clinic. High school directors may register up to 15 students of their choice, with no more than 2 on the same instrument.
The following information will be required for registration: Band director and school name and contact information, student name and email, instrument, grade, home address, typical part assignment, t-shirt size, and All-State/honor band experience, and whether the student is interested in submitting a video for the online masterclass (see below). The registration form can be found HERE and will open Monday, November 30. Participation is limited to the first 500 registrants. The registration deadline is Friday, January 15, 2021, at 5 pm EST.
Special Master Class Opportunity
Juniors and seniors participating in the 2021 Band Clinic may apply for an opportunity to be featured during a Band Clinic masterclass via Zoom with our UofSC School of Music faculty. Selected students will receive live coaching and feedback during the session. To apply, submit an unedited video of a 5-7 minute solo performance, with or without accompaniment. The submission should demonstrate contrasting styles and may include multiple pieces/movements. Your band director must also submit a recommendation via e-mail to [email protected]. Your masterclass video submission need not be on the same instrument you play for the Band Clinic compilation video.
Video submissions are due at 5 pm EST on Monday, January 25. Students will be informed of selection on or before Friday, January 29.
To submit your video, use THIS FORM.
---
For more information or questions, contact the UofSC Band office at 803-777-4278 or [email protected].