Dear SCBDA Members,
Welcome back! I hope that you and your family had a wonderful holiday season and that your new year is off to a great start!
The 2018 SCMEA Professional Development Conference is rapidly approaching, with the conference being held February 15-17 at the Columbia Metropolitan Convention Center and USC Alumni Center in Columbia, SC. We are excited to offer a wide range of clinics and performances, both through the Band Division and At-Large sessions, that will inspire and motivate directors at all levels. A list of the Band Division events are posted on Bandlink; make your plans now to attend as many sessions as possible.
Registration is open for the 2018 Conference!
As a reminder, all directors must be registered in order to attend conference sessions and to vote in the SCBDA business meeting held on Saturday afternoon. Please register by January 15, 2018 to get early registration prices! Click on the link below and select "Annual Conference" to complete your registration for the 2018 SCMEA In-Service Conference.
Early registration prices:
Regular member: $80
Collegiate member: $15
Retired Member: no charge
After January 15:
Regular member: $100
Collegiate member: $30
Retired Member: no charge
2018 SCMEA Conference Registration Link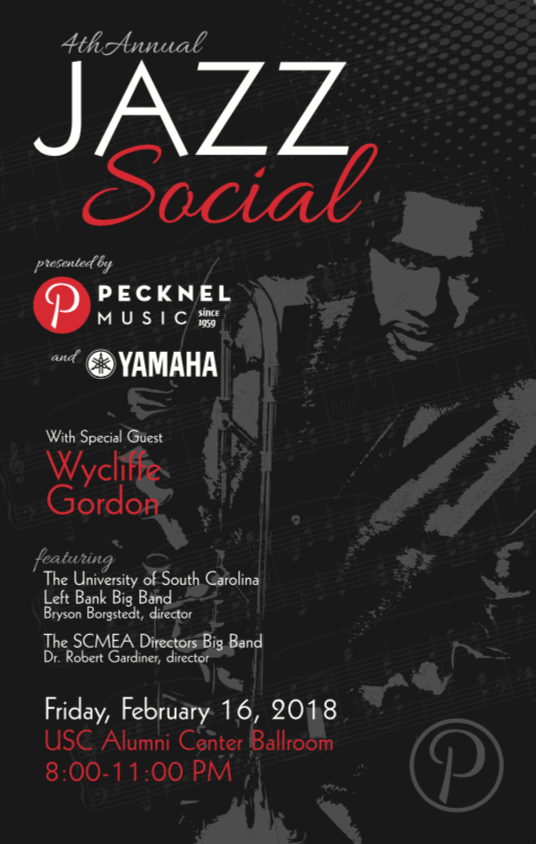 We will also have several performances scheduled in the Exhibit Hall and I want to encourage all of you to take time to visit our exhibitors throughout the Conference.  Without the support of our exhibitors, the convention would not be possible and they are vital to our success.
One of the highlights of the conference will be our 4rd Annual JazzSocial, which will feature the USC Left Band Big Band, and the SCMEA Directors Jazz Band with special guest artist Wycliffe Gordon.  Once again, this event will take place in the USC Alumni Center, with beverages and heavy hors d'oeuvres provided by Yamaha and Pecknel Music Company.  The performances will begin at 8 PM.  Let's all plan for an early dinner so we can join together with our colleagues from all divisions of SCMEA for a wonderful evening of jazz and socializing!
Sincerely,
David O'Shields, President-Elect
South Carolina Band Directors Association