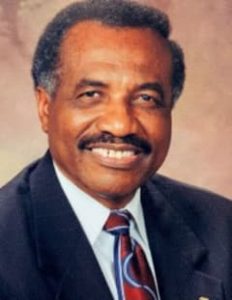 Clarence T. Jones, 76, peacefully entered into eternal rest on December 31, 2019. Mr. Jones was the son of the late Mr. and Mrs. Booker T. Jones. He was the husband of Mrs. Annie Ruth Jones.
Mr. Jones graduated from Wilkinson High School, Class of 1962. He received his Bachelor of Science Degree in Music Education from South Carolina State University. Clarence earned his Masters of Fine Arts Degree from Furman University. He was also a graduate of The Interdenominational Theological Center where he received his certification in Theology.
He was a former member of Warren Chapel Baptist Church in Orangeburg, SC. He concluded his walk with Christ as a member of Mount Moriah Baptist Church in Spartanburg, SC.
Mr. Jones was employed with Spartanburg District 7 Schools, the South Carolina School for the Deaf and Blind as a Band Director and South Carolina State University as an Adjunct Professor of music. Mr. Jones also worked for Spartanburg Parks and Recreation as a Water Safety Instructor.
Left to cherish fond and loving memories are his wife of fifty-four years, Mrs. Annie Ruth Jones; his sons, Anthony Jones (Sheila) of Charlotte, NC and Christopher Jones (Jessica) of Columbia, SC; his six grandchildren; and a host of relatives and friends.
A Celebration of the Life of Clarence Jones will be held on Wednesday, January 8, 2020, at 2:00 p.m. at Mt. Moriah Baptist Church, 445 S. Church St., Spartanburg, SC. The Rev. Dr. B. D. Snoddy will officiate. Burial will be in the Heritage Memorial Gardens, 3901 S. Church St., Roebuck, SC.
Visitation will be held on Wednesday, January 8, 2020, from 1:00 p.m. – 1:45 p.m. in the atrium of the church.
The family will receive friends at the home, 477 Carolyn Dr., Spartanburg, SC.
J. W. Woodward Funeral Home