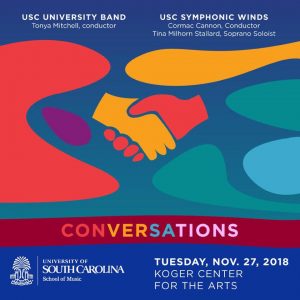 USC University Band and Symphonic Winds
Tuesday, Nov. 27, 2018, 7:30–9:00 PM
Koger Center for the Arts
Join the University Band in their first concert of the semester featuring a WORLD PREMIERE by composer Josh Hinkel. Forever to Thee was commissioned by the USC's Zeta Chi chapter of Kappa Kappa Psi, the National Honorary Band Fraternity. The work is written to honor the life and legacy of Pat Wylie, former USC Band Director, South Carolina educator, and voice of the Carolina Band.
Program:
Conversations – Chandler Wilson
Albanian Dance – Shelley Hanson
Forever to Thee – Josh Hinkel *world premiere
El Capitan – John Philip Sousa featuring guest conductor Jack Eaddy
…My Consciousness – Daniel Montoya
Prelude, Siciliano, and Rondo– Malcolm Arnold
The University Band Chamber Players also present a lobby performance featuring three chamber groups at 7:00 p.m. prior to the concert.