The SCBDA is proud to announce the newest SCBDA Hall of Fame member, Ms. Edna Grace!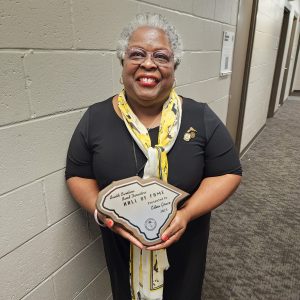 Edna Y. Grace, a native of Charleston, South Carolina, received a B.S. in Music Education from South Carolina State College, a M.A. in Music from the Ohio State University, and a M.Ed. in Administration and Supervision from the Citadel. During her career of thirty-six years, Edna held posts as Band Director and General Music/Chorus teacher in Charleston County School District at Brentwood Middle (1981-1984 – General Music/Chorus; 1984- 1991–Band) and Berkeley County School District at College Park Middle (1991-2007–Band) and Stratford High (2007-2017–Band/Chorus). The bands under her instruction received the highest ratings at the SCBDA Concert Festival and Solo and Ensemble Festival, while individual students were selected for membership in honor bands (All-County Concert Bands, All-County Jazz Band (BCSD), Region Honor Band, South Carolina All-State Band, and the SC All-State Jazz Bands). Both the middle and high school band programs were consistent recipients of the SCBDA Outstanding Performance Award. In addition, the College Park Band earned the honor of performing at the 2003 SCMEA conference.
While at College Park, Edna also served as an assistant director at Stratford High School during the marching season. When she became Director ofBands at Stratford, students continued a tradition of excellence through participation in the concert bands, jazz band, marching band, small ensembles, symphony orchestra, winter guard/dance line, class piano, and class guitar. At the start of her thirty-fifth teaching year, Ms. Grace took the sole position at Stratford High School as director of the choral music program, having had the dual role of Director of Bands and Choral Director the previous four years. The program grew in student membership while maintaining consistent numbers in All-County Chorus and SC All-State Chorus.
Professional affiliations have included the National Association for Music Education (NAfME), South Carolina Music Educators Association(SCMEA), National Band Association (NBA), Phi Beta Mu International Bandmasters Fraternity (PBM), Women Band Directors International (WBDI), the South Carolina Band Directors Association (SCBDA), the American Choral Directors Association, and the South Carolina American Choral Directors Association. Edna served SCBDA as recording secretary and as a member of several committees, including Solo and Ensemble, All-State, Concert Festival, and Winter Ensemble.
Edna has served as an honor band clinician and concert band adjudicator in South Carolina, North Carolina, Kentucky, Virginia, and Georgia. She has been an adjunct faculty member of Charleston Southern University, teaching studio oboe and Music Appreciation. Edna has been active in community music ensembles including the Summerville Community Orchestra, the Charleston Wind Ensemble (one year as conductor), and theGoose Creek Community Band for which she served as conductor until its reorganization as the St. James Wind Ensemble.
Among the honors that have been presented to Ms. Grace are the NBA Citation of Excellence, the WBDI Scroll of Excellence, PBM Outstanding Bandmaster Award, and PBM Bandmasters Hall of Fame. She also was selected as Teacher of the Year at both Brentwood and College Park as wellas and being named a top three finalist for Berkeley County.
Since retirement in June 2017, Edna continues to contribute to music education as a private teacher of double reed players, a band and orchestraadjudicator and clinician, a mentor to directors across the state, an artist in residence at schools in Berkeley County, and as a substitute teacher in Berkeley, Charleston, and Dorchester counties. She also serves SCMEA executive board as Retired Member Chair. Her remaining time is spent traveling and visiting her family, serving her church as a substitute organist, class leader, and director of the Combined Choirs, and playing oboe and alto/tenor saxophone in the St. James Wind Ensemble.
"It is easier to build strong children than to repair broken men." ~ Frederick Douglass