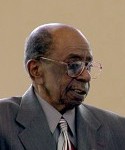 James B. Hunt, Jr. is a native of Greenville, S.C., grew up in the section called West Greenville and attended elementary school in the Parker District.  He graduated salutatorian of Sterling High School class of 1942.  His first experience with music came at age 6 when his parents taught him to "sing notes." It was in college that he realized his parents had begun teaching him syllabizing, ear training, and Sight Singing 101.  In 8th grade, unable to purchase an instrument, he bought a toy clarinet from Kress 5 & 10 cent Store.  The band members and band director, Mr. M. C. Lewis, were amazed to hear him playing Sousa marches on his toy instrument in the boy's restroom.  He was given an alto tuba, fingering chart, and a march book on a Tuesday and marched with the band at halftime the following Friday night.
Mr. Hunt entered South Carolina State College in 1942 where he won a band scholarship and as a freshman had the rare honor of being chosen to play in the dance band known as the "State College Collegians." At S.C. State College, he studied trumpet under the late Frank Motley.  He earned a B. S. Degree in Mechanical Engineering in 1946 and a Master's Degree in Education in 1958.
Mr. Hunt's peers call him a "First Band Director" because of his many "first" achievements.  He was the first and only band director at Wilkinson High School in Orangeburg, a position he held for 25 years.  He was the first band director at Sharperson Junior High School, Brookdale Middle School and Bellville Junior High.  With the merger of Orangeburg High School and Wilkinson High School in 1971, he organized and became the first director of the Orangeburg-Wilkinson High School Band.  His band was the first racially integrated band to march in the Railroad Daze Festival in Branchville, S.C. In 1972 this band also participated in the Shrine Bowl Parade and halftime show in Charlotte, NC.
Mr. Hunt placed more than two hundred fifty students in SC All State Bands sponsored by the SC Band Masters Association.  He served as president of the Band Masters Association for three years and was selected "Band Director of the Year" in 1962.  His peers also recognized him for his significant contribution to music education in South Carolina at the S.C. State College Second Alumni Band Concert in 1976.  In 1987 he was inducted into the S.C. State College Jazz Hall of Fame.  Mr. Hunt is most proud of the accomplishments of his former students who include Johnny Williams, member of the Count Basie Band since 1970; Shellie Thomas, a retired music teacher in Los Angeles and currently the leader of the Original Honey Drippers Band; Horace Ott, Broadway composer and arranger and sometimes conductor for the Queen of Soul, Aretha Franklin; three of the famous Jarvis Brothers and Jarvis Sister, Priscilla; and 2000 Hall of Fame inductee Dwight McMillan.
Mr. Hunt has been married for more than 50 years to the former Lerlene Hilton.  They have two daughters – Mrs. Deborah Hunt Woods, a 1999 Teacher of the Year in Lithonia, Georgia and Dr. Marilyn Hunt Alim, an education analyst at NASA/Marshall Space Flight Center in Huntsville, Alabama.  They have eight grandchildren and four greatgrandchildren.   According to Mr. Hunt, the "best sounding" band he has ever heard was the one made up of his grandchildren.  Mr. Hunt is a member of Mt.  Pisgah Baptist Church where he serves on the Deacon Board and teaches the Merfs Sunday School Class.  He is a member of Epsilon Omega Chapter of Omega Psi Phi fraternity.  Since his retirement, Mi.  Hunt's greatest pleasure is arranging music for the Mt. Pisgah Ensemble under the direction of Mr. Jim Hinton.
---
Charles Pinckney "Chief" Pruitt was born in Williamson, South Carolina, but has been a resident of Newberry since the age of two. He graduated from Newberry College in 1950, then taught at York High School from 1950 until 1956.  In 1956, he returned to Newberry to establish the wind and percussion division of the Newberry College Music Department.  The Newberry College Jazz Ensemble, originally called the College "N" Orchestra, was organized in 1957, one of the first of its kind in the Southeast.  At this time he also established the first South Carolina High School Jazz Festival, which has convened annually on the campus of Newberry College since that time. While serving as President of the South Carolina Chapter of the National Association of Jazz Educators, he established the All-State High School Jazz Ensemble.  This ensemble performs each year as a part of the High School Jazz Festival.
Mr. Pruitt was named one of the Outstanding Jazz Educators in the nation in 1975 by the National Association of Jazz Educators, and, in 1986, was named the Outstanding Jazz Educator of South Carolina. In the summer of 1975, he established the first Jazz Workshop in South Carolina supported by the National Endowment for the Arts, the South Carolina Arts Commission and Newberry College.
Mr. Pruitt was director of the Newberry Concert Band, an organization sponsored by the Newberry Cotton Mills, from 1960 until 1968, when it was discontinued.  This textile band was the last of its kind in South Carolina and perhaps in the nation.  The group was founded in the early 1900's, and was also conducted by Mr. Pruitt's father, J. S. Pruitt, for many years.
For 25 years, Mr. Pruitt was Bandmaster of the 246th Army Band of the South Carolina National Guard.   He reached the rank of Chief Warrant Officer before his retirement in 1984.  He is a charter member of the 519th and 520th Army Air Force Bands.  His personal performing experiences have been primarily in the jazz field, playing with the bands of Billy Butterfield, Johnny Long, and Les Elgart, and recording with the Charlie Spivak Orchestra.
Affectionately known as "Chief," Charles Pruitt served Newberry College as a member of the faculty for 32 years and as Chairman of the Music Department from 1984-1988.  Upon his retirement in 1989, he received the title of Professor Emeritus of Music, Newberry College.