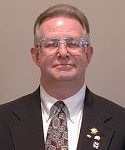 William E. Ackerman was born in Florence, S.C. on February 23, 1944. He then lived in Bishopville and Summerville, S.C. before moving to Columbia at age six. He attended the Taylor Elementary School, Wardlaw Junior High School, and Columbia High School. Mr. Ackerman started on the clarinet in beginner band during the summer between 6th and 7th grades, then switched to the oboe in the 7th grade. He learned percussion as a marching instrument in high school. Mr. Ackerman's first band director was Heyward Moore, followed by Robert Maddox. During his senior year he served as band captain and as vice-president of the Columbia High School Student Council. He was voted the "Most Dependable" Senior Superlative in the class of 1962 and was a member of the Key Club.
As a freshman Music Education major at the University of South Carolina, Mr. Ackerman started playing oboe with the Columbia Symphony Orchestra (now the South Carolina Philharmonic Orchestra). He continued to play in the orchestra for 17 years under conductors Arthur Fraser and Arpad Darazs. While at USC, Mr. Ackerman served 2 years as band president and 2 years as president of the Delta Sigma chapter of Phi Mu Alpha Sinfonia. He worked as a student assistant in band director James D. Pritchard's office and drove the band equipment truck.
Mr. Ackerman completed student teaching with Tom Isbell at Brookland-Cayce High School in the spring of 1967 and graduated from the University of South Carolina with a Bachelor of Education degree. He was hired shortly thereafter as band director at Fulmer Middle School in Lexington County School District Two. During thirty years in Lexington District Two, Mr. Ackerman served as band director at Fulmer Middle, Busbee Middle, Pine Ridge Middle, and Airport High School. He left teaching in 1978 to become a fund-raiser for Henco, Inc.; realized teaching was where his heart was and returned to band directing at Fulmer Middle School in 1980. He retired from the classroom in 1999 and continues to serve Lexington Two as full-time Coordinator for Fine Arts.
In 1973, Mr. Ackerman received a Master of Music Education degree from the University of South Carolina.
Mr. Ackerman is the founder and conductor of the Columbia Community Concert Band since 1981. As a member of SCBDA, he served as president 1972-75, served on the Concert Solo and Ensemble, All State, Handbook, and By-law committees, as Central Region Chairman and Parliamentarian. While Handbook chairman, Mr. Ackerman reorganized the handbook into its present chapter outline format and first transcribed the handbook onto the computer disk in the late 80's. Mr. Ackerman was elected Teacher of the Year at Fulmer Middle School in 1988. Mr. Ackerman served in the South Carolina Music Educators Association as president-elect 1993-95, president 1995-97, and vice-president 1997-99, and served as conference chairman for the last four years.
Mr. Ackerman presently serves on the steering committee of the Arts in the Basic Curriculum project and on the board of the S.C. Alliance for Arts Education and was recently elected chair of the S.C. Coalition for Music Education. He is a member of the American School Band Directors Association (state chair 1991-95), Phi Mu Alpha Sinfonia Professional Music Fraternity, Phi Beta Mu Professional Bandmasters Fraternity, and Pi Kappa Lambda Honorary Fraternity. He received an Alumni Certificate of Achievement from the University of South Carolina School of Music in 1995 and a National Band Association's Certificate of Excellence in 1997.
Mr. Ackerman married Joy Pettigrew in 1969. They have two children, Amy, 25, and Clay, 22, and a "Morris-Wannabe" cat named "Buddy." He is a member of McGregor Presbyterian Church where he serves as a ruling elder and assistant clerk of Session. He sings in the choir and still plays the oboe when he can. His outside interests include boating, fishing, beach combing, automobiles, and NASCAR racing.
---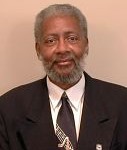 Dwight D. McMillan was born in Bamberg, S.C. on January 12,1946, to the late Rev. Eugene and Elouise McMillan. He is the youngest of eight brothers and sisters. After the death of his father in 1947 and his mother's illness, Mr. McMillan was raised by his aunt, Mrs. Marian M. Oliver of Orangeburg, S.C.
Mr. McMillan began his formal education at George Washington Carver Elementary School in Cope, S.C. Mrs. Oliver realized his musical inclination early and enrolled the youngster in the Orangeburg City School System that offered instrumental music. Although Ms. Oliver was a full time educator with the S. C. Public School System, she sought additional employment to provide Mr. McMillan with a musical instrument and private lessons.
In the fall of 1959, Mr. McMillan enrolled at Wilkinson High School where he continued his education and saxophone lessons. After graduating from high school in 1963, Mr. McMillan attended Claflin University in Orangeburg, S.C. to pursue a degree in music. In 1967, he obtained a B.S. Degree in Music Education from Claflin University. He accepted his first teaching position with Dorchester School District #3 at Jenkins Hill High School in 1967. During this time, Mr. McMillan performed professionally with a musical group called the Exotics in which he co-founded and managed. The group toured extensively throughout the Mid-West and eastern United States during the 1960's and 70's. Mr. McMillan accepted the position of Band Director at Orangeburg-Wilkinson High School in 1979. During his eighteen-year tenure in Orangeburg School District #5, the Marching Band, Concert and Jazz Bands consistently received superior ratings at festivals and state competitions. In 1995, Mr. McMillan retired from the S.C. Public School System and accepted a position with Claflin University where he is presently the Director of Bands.
Dwight D. McMillan is married to the former Margie L. Whetstone of Orangeburg, S.C. They are the parents of Mrs. Kathy L. Bennon and Dr. Dwight D. McMillan, Jr. Mr. & Mrs. McMillan are also the proud grandparents of Gabrielle & Adia Bennon and Shani McMillan. Mr. McMillan is a member of Edisto-Fork United Methodist Church. He is also a member of the South Carolina Band Directors Association, MENC, Omega Psi Phi Fraternity, Phi Beta Mu and Kappa Kappa Psi Music Fraternities. During Mr. McMillan's career he has received numerous awards and citations which include the following: 1989 Distinguished Alumnus Award (SCSU), 1991 Teacher of the Year (Orangeburg-Wilkinson High School), 1993 Year Book Dedication (Orangeburg-Wilkinson High School), 1999 Jazz Hall of Fame (SCSU).
---
C. Philip McIntyre is a native of Greenville, South Carolina, and a 1973 graduate of Parker High School. While at Parker, Phil was under the guidance of his teacher, mentor, and friend, Mr. James B. Senn. Following his tenure at Parker, Phil attended Furman University as a student of Mr. Dan A. Ellis. He received a Bachelor of Music degree in 1977 and Masters of Arts in Education in 1982. In 1977 Phil was hired as Director of Bands at Blue Ridge High School where he served for six years. In 1982 Phil was named Teacher of the Year at Blue Ridge. In 1983 Mr. McIntyre became Director of Bands at James F. Byrnes High School, and in 1999 was named Teacher of the Year. In 1999 he was also awarded the Outstanding Bandmaster by Phi Beta Mu, and a Citation of Excellence by the National Band Association.
Under Mr. Mclntyre's direction, the Byrnes Rebel Regiment Marching Band has performed for the following: 1985 Presidential Inaugural Parade, 1988 Festival of States in St. Petersburg, Florida, 1994 Cherry Blossom Parade in Washington DC, 1996 Macy's Thanksgiving Day Parade, and five times for the South Carolina Governor's Inaugural. The Byrnes Rebel Regiment also marched in the 111th. Tournament of Roses Parade in Pasadena, California, on January 1, 2000. The Rebel Regiment has been awarded the South Carolina State Marching Band Championship six times and the Upper State Championship nine times. In 1997 the Rebel Regiment was a Bands of America Grand National Semi-Finalist and won the prestigious Al Castronova Esprit De Corps Award. The Rebel Regiment has been a finalist in Bands of America Regional Championships six times and was a BOA Regional Champion in 1999.
The Symphonic Bands under Mr. Mclntyre's direction have consistently been awarded superior ratings at the SCBDA Concert Band Festivals. The Symphonic Band also performed at the SCMEA In-Service Conference in 1999. The Byrnes Band program has been awarded the SCBDA Outstanding Performance Award twelve times.
Mr. McIntyre is a member of Phi Beta Mu, American School Band Directors Association, SCBDA, Phi Mu Alpha, SCMEA, MENC, and the Ruritan Club. He is also a member of the Duncan First Baptist Church. Phil has served SCBDA as President, Chairman of the Marching Committee for six years, and Chairman of the Adjudication Committee. Phil and his wife Wanda have been married for twenty-four years. They have two wonderful daughters, Alicia, a sophomore at Byrnes and Kelsey, a fourth grader at Duncan Elementary.