Founded in December of 2015 with the vision to offer select students the opportunity to perform high-level wind band literature the Stratford Wind Orchestra (SWO) is the top performing concert ensemble at Stratford High School. Purely an extracurricular ensemble the SWO does not have a regular class period dedicated to the group during the school day. These students choose to play because of their passion for making music and performing outstanding repertoire composed for the wind band. Utilizing Japanese wind orchestra programs as a model students are auditioned in the fall by their peers, assigned part rotations, committed to a rehearsal schedule, and given the expectation to be prepared when regular rehearsals begin. Membership is open to all students regardless of age. In its short time in existence, the SWO has performed works by Vincent Persichetti, Yosuke Fukuda, Percy A. Grainger, Masao Yabe, Edward Elgar, Josef Hellmesberger, Paul Hindemith, as well as commissioned a new work for band. Many SWO student musicians are frequently selected for the SCBDA All-State & Region Bands and continue to perform at the collegiate level.
The Stratford Band Program serves approximately 150 students and consists of the Marching Knights, Colorguard,  Large Jazz Band, Festival Jazz Band, Jazz Combos, the full sized Concert Band comprising of 100+ members, Stratford Wind Orchestra, Ninth Grade Band, Flute Choir, Saxophone Quartets, Clarinet Choir, Brass Quintet, Trumpet Ensemble, and Percussion Ensemble. All ensembles are consistent recipients of Superior ratings at SCBDA events as well as earning the Outstanding Performance Award. The Stratford Band Program is fed by Westview Middle School, College Park Middle School, and Marrington Middle School for the Arts.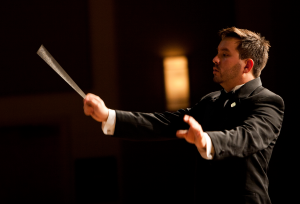 A native of Charleston, SC Todd B. Smith is the Director of Bands at Stratford High School in Goose Creek, SC. Mr. Smith holds a Master of Music Education degree from the University of Illinois at Urbana-Champaign where he was a graduate assistant with the world-renowned Marching Illini, conductor with the concert bands, and an active ensemble performer. Mr. Smith also devoted much time to music education research specializing in music medicine and technology.  Prior to his graduate studies Mr. Smith graduated from the University of South Carolina with a Bachelors in Music Education. While at USC he was an avid performer in the Symphonic Band, Wind Ensemble, Symphony Orchestra, Left Bank Big Band, Trumpet Choir, as well as a section leader in the "Mighty Sound of the Southeast" Marching Band. Mr. Smith has also conducted observations at several Japanese institutions including Inagakuen Sogo High School, the Senzoku Gakuen College of Music, and with the Tokyo Kosei Wind Orchestra.
As an educator, Mr. Smith has taught both band and orchestra in grades 5-12. Under his direction, the Bands of Stratford concert, jazz, and chamber music programs have all earned consistent superior ratings at their respective state festivals. Most recently the Stratford Wind Orchestra, only in its third year of existence, has been selected to be a featured ensemble at the 2018 SCMEA In-Service Conference. Before his appointment at SHS Mr. Smith was the Director of Bands at Cane Bay Middle School expanding the program to include multiple concert bands and ensembles, an increase in honor band acceptance, as well as earning the school's first Superior rating at the state concert festival. Prior to this Mr. Smith taught at Hilton Head Island High School creating the most comprehensive program in Beaufort County consisting of 2 Concert Bands, a Jazz Band and Combo, a Percussion Ensemble, a Symphony Orchestra, and a competitive Marching Band. All ensembles performed extensively throughout the year and were awarded multiple superior ratings as well as other various honors. Mr. Smith is also an active clinician working with middle and high school groups, giving brass masterclasses, as well as presenting sessions on Japanese band methods.
Maintaining an active schedule as a musician Mr. Smith has performed with The Charleston Symphony Orchestra, The Hilton Head Symphony Orchestra, The Southcoast Symphony, The Manchester Symphony, Charleston Wind Symphony, and served as lead trumpet for over 250 shows at The Arts Center of Coastal Carolina. He has studied trumpet with John Spitler, Brian Osborn, David Gordon, Keith Amstutz, James Ackley, and legendary Canadian Brass trumpeter Ronald Romm. Mr. Smith also maintains a private trumpet studio with student successes ranging from all-state ensembles to membership in Drum Corps International.   
His professional affiliations include NAFME, SCBDA, ASBDA, The International Trumpet Guild, and Phi Mu Alpha Sinfonia. Mr. Smith resides in Summerville, SC with his wife Kindall N. Smith, classical saxophonist and Director of Bands at Dubose Middle School, and their Olde English Bulldog Daphne.