The Dutch Fork High School Silver Spirit Band is celebrating its 25th year in existence this year. With only three directors in its life time, this program has seen tremendous growth from the very beginning. In these years, the band began playing in Grade 3/4 music and in the last 4 years has been able to experience the joy and excitement of consistently performing Grade 6 literature. In the last 4 years, the band has consistently won the South Carolina Band Director's Association's Outstanding Performance Award, as well. The band currently has three concert band classes, two percussion classes, and a chamber winds class. The students stay busy maintaining excellence on their instruments while performing five to six concerts a year, as well as spending time to participate in Region Band, All State Band, and Solo & Ensemble. The Silver Spirit Marching Band consistently earns Superior Ratings at marching events across the state of South Carolina and is starting to step out into the regional field of competition performing in Music for All's Bands of America circuit.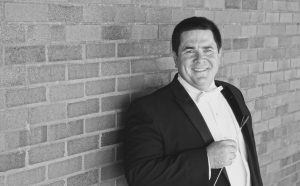 Paul Clayton has been the Director of Bands at Dutch Fork High School since 2014. He is currently in his 8th year as a professional music educator after receiving his Bachelor of Music with an Emphasis in Education degree from the University of South Carolina. He began his teaching career at The King's Academy, a private school in Florence, SC. After teaching there for two years, Paul went on to become the Director of Bands at Andrew Jackson High School and Middle School in Kershaw, SC for two years. Mr. Clayton also served as the Orchestra Director at Riverland Hills Baptist Church in Irmo, SC for six years beginning in 2004.
Mr. Clayton has lead his bands to earn the South Carolina Band Director's Association's Outstanding Performing Award in every year of his teaching career, along with consistent Superior Ratings at Concert Festival and Marching Band events.